If you are planning to buy a silver chain, there are some aspects that you should not ignore. If you're planning an expensive purchase, it's a good idea to gather as much information as possible about the item to make an informed purchase. Silver would be an ideal choice as it is pure silver forged with minimal copper.
This is generally more durable. You should also check if it has been coated to prevent the silver from being tarnished. There are a large variety of designer drop necklace designs that you can check out before making a purchase. A beaded necklace would look great on casual wear. You could also team it with an evening dress if you want to look bold.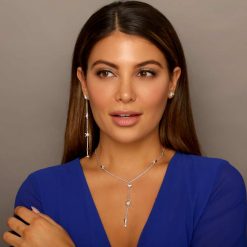 The beads are usually incorporated into the silver and held in place with a secure mount. You can choose from semi-precious stones like lapis lazuli, carnelian, turquoise, hematite, or amethyst. Be sure to coordinate this with the other jewelery you have.
Chain and link necklaces are popular among both genders. These are usually teamed with beautiful pendants. You can check out various stores online for some excellent purchase options. These consist of a number of thin metal ropes either singly or braided together to form a thick chain.
For those with long necks, a choker adds grace and beauty to the ensemble. You can choose from silver chokers in a variety of designs. You may also blend your silver necklace with gold or platinum to make the piece a real stunner. din contrast, drop necklaces look much better on shorter necks.